Become a part of the Harrison Holgate Team
Fulfil your potential
At Harrison Holgate, we help you progress your career, providing easy to understand, simple and focused targets to let you truly reach your potential. The targets for promotion work on a rolling 12 month net fee income trigger, calculated at the beginning of each new calendar quarter. Commission and benefits providing unrivalled rewards to our top talent
- Competitive basic salary, calculated on performance.
- Uncapped commission and bonus scheme that allows individuals to earn from their personal production.
- Manager bonus calculated from team's production.
- Top producer additional bonuses for milestone achievements.

In addition there are many team and company experiences we provide such as top biller lunches, away days and trips and participation in many other corporate company and insurance market events.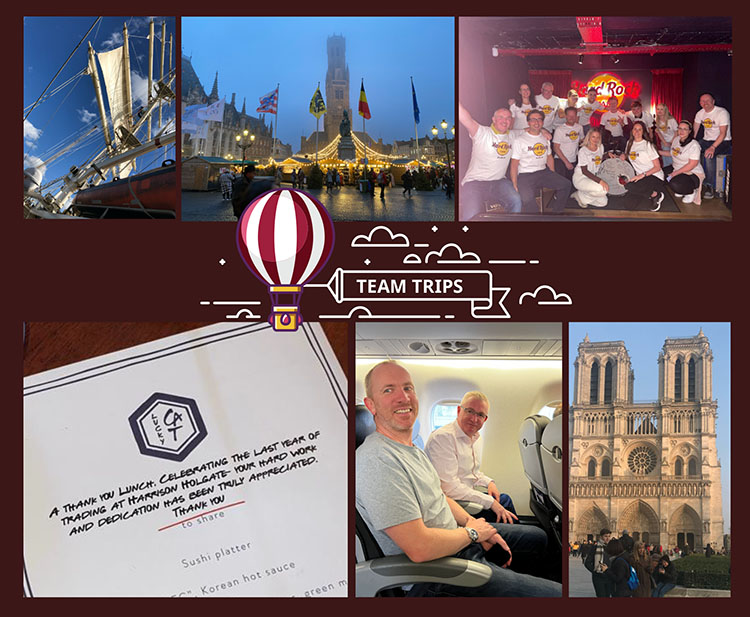 Benefits at a glance
- 25 days holiday plus bank holidays, and an additional day for your birthday
- Generous pension scheme
- Quarterly prizes for highest biller and highest % of target
- Cycle to work scheme
- Access to over 9000 perks and benefits with Perkbox,
- Membership to bespoked HH Fitness club plus many more qualifying benefits.
Health, Wealth and Happiness
Paid access to our advisors offering a range of financial services and solutions. We want you to ensure you're always in the best of health, so as part of our qualifying benefits package we provide you with access to top rate private medical insurance. Our fitness club provides you access to a personal trainer with weekly sessions, and Perkbox further provide over 9000 other perks and benefits.
Ensuring you have the time you need
Enhanced maternity and paternity leave, with flexibility over working hours (subject to agreement with your manager and operational need), and finishing early on Fridays to give you that precious time you need to relax at the end of your busy week.
Our philosophy towards your development
With a high performance culture, we take pride in the standards we set for ourselves. To help you perform your best, we run ongoing personal development, training and support courses and programs.
Team Trips
We regularly reward the entire team with all expenses paid trips to a variety of locations across the country and Internationally. In the last few years we have been to Paris, Amsterdam, Bruges and Dublin.